How to Hold an Award that Includes a Partner Segment when Your Account is Short (DoNotTrackMe trick)
The workaround is to download something called DoNotTrackMe. I'm not sure why it works, but it does.
Step 1: Go to www.abine.com and click Get DoNotTrackMe.
Note that you download things onto your computer at your own risk. I am telling you how I've been able to hold United awards, not insisting that you download anything. Copying me is at your own risk.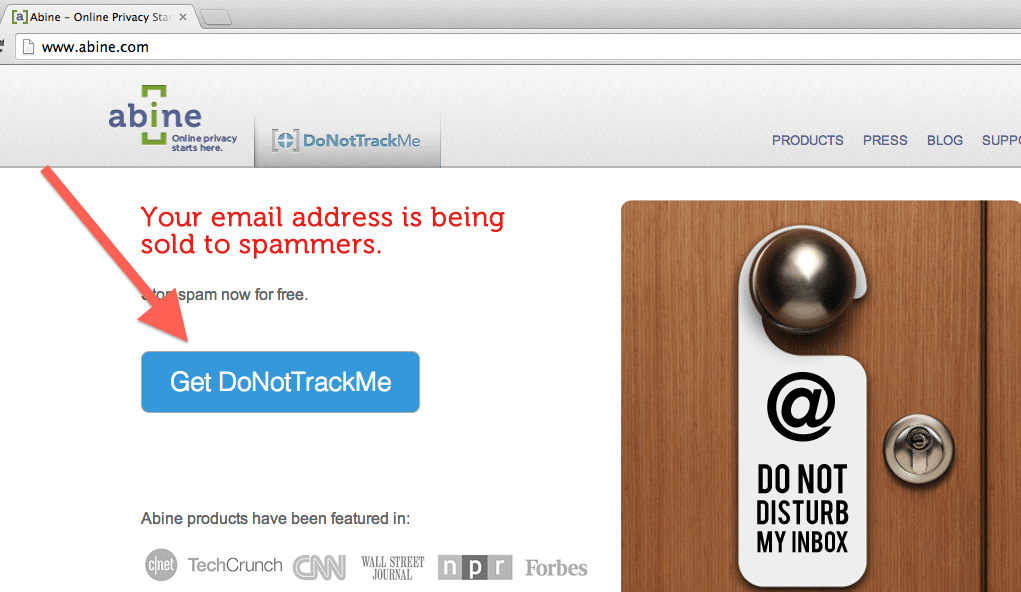 Step 2: Create an Account.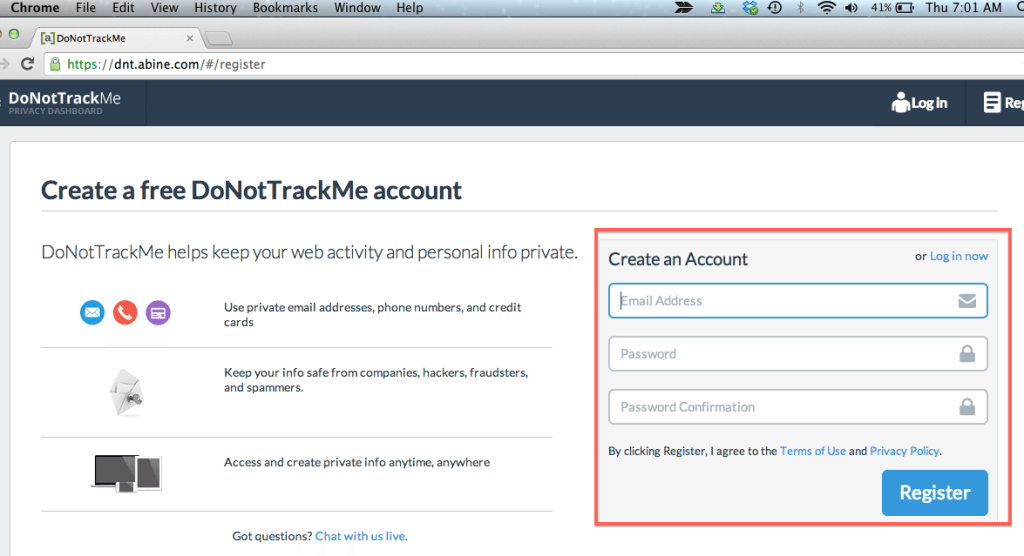 Step 3: Inside your account, activate Tracker Blocker and install it on your browser, which will require a browser restart.
Now when you go to united.com and search for an award that includes at least one segment on an airline other than United, and you don't have enough United miles to ticket the award right away, the Reserve button will appear–exactly where it used to appear–once you've selected your flights!

You are required to give a credit card to hold the award, but if you do nothing, the award hold will lapse and your credit card will NOT be charged.
The award is held until 11:59 PM the next day in the time zone of the departure city.
You can find the award and its confirmation number by clicking Change/View Existing Reservations in your United account.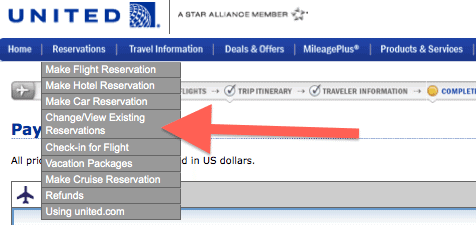 There's the award I held:

How to Hold Any Award When You Have Sufficient Miles to Book (PayPal Trick)
Step 1: Select any award–with flights operated by any airline–and go through the screens to purchase the award. First you click "Continue to traveler information."

Then you select seats or not. (You will only be given a chance to select seats on United flights.)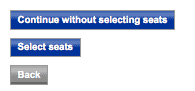 Step 2: On the payment screen, select PayPal and Checkout with PayPal.

Step 3: You are taken to PayPal and asked to sign in. Don't. Instead, click "Cancel and return to United Airlines, Inc."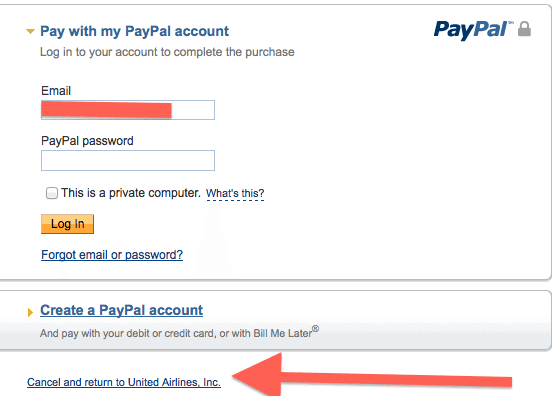 The hold is now in place, and if you want to see it, you can do so by selecting Change/View Existing Reservations from any united.com page.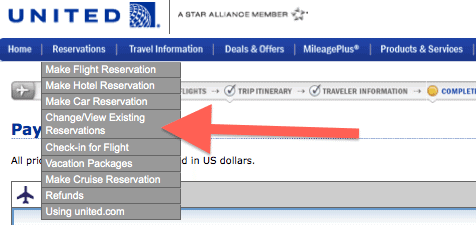 Here's the held award:

How Do You Hold United-Only Awards When You Are Short Miles?
If your account has zero miles and you select an award with only United-operated flights, United wants you to pay to hold the award with its Fare Lock product.
For instance, here is an award from Los Angeles to New York for 12,500 miles and my account only has 6,500 miles in it. Fare Lock costs $10-$15 depending on how long I want to hold the award.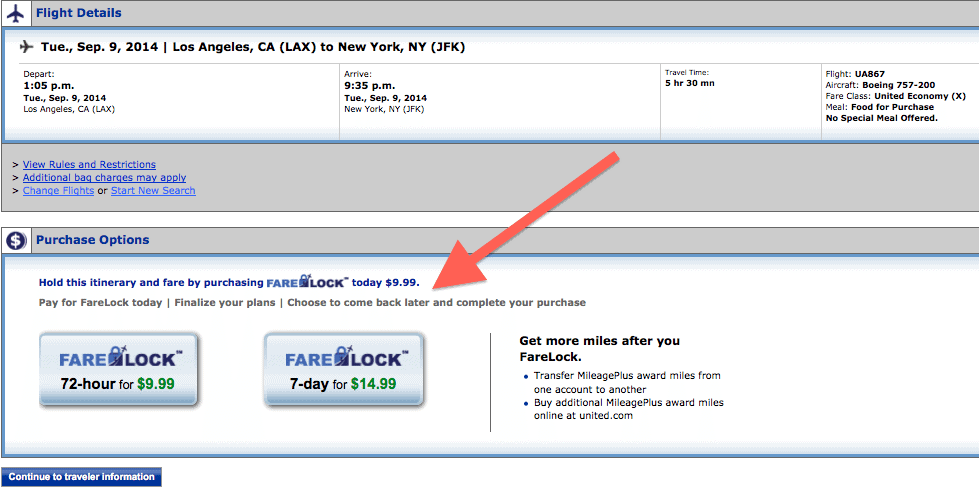 To save that money, I would simply add a partner segment to the award and then–after downloading DoNotTrackMe–I'd have the chance to hold the award for free since:
the award would include a partner segment
and my account wouldn't have enough miles to book the award
Here's the same Los Angeles to New York flight with a dummy leg from Phoenix to Los Angeles beforehand. As you can see, I'm offered the Reserve button, which means I can hold the award for free.

If you do this, you just have to call to book the award and have the agent remove the dummy leg before booking. Make sure to tell her you put the award on hold online, but couldn't make the change you wanted online, so you had to call to ticket the award. This will get her to waive the $25 per person phone ticketing fee.
Recap
When it comes to holding United awards, there are three types of awards:
Awards that cost less than your United account balance.
Awards that cost more than your United balance and include a partner segment.
Awards that cost more than your United balance and don't include a partner segment.
If you have enough United miles to ticket an award–type 1 above–use the PayPal trick to hold the award.
If you are short the miles you need, and the award has a partner segment–type 2 above–use the DoNotTrackMe trick to hold the award.
If you are short and don't have a partner segment–type 3 above–add a dummy partner segment, then use the DoNotTrackMe trick.
SOURCE: http://milevalue.com/master-thread-holds-on-united-awards/