SUNDAY TRAVEL ADVENTURES – "Seville, Spain: Red Hot!"
Today's featured travel writer is Dr. Cindy Maloney who writes Pointsandtravel, "Combining points and travel to create extraordinary experiences for your family"
Dr. Cindy Maloney is a long time world traveler who has visited 33 countries and still has a zest for more.  She was given advice some 18 years ago from a trainer she hired for her clinic that was similar to the medicine man from Bali in Eat, Pray, Love .  He gave her the advice that she wanted to hear. "If you are going to work this hard and so many hours, you will need to take a vacation every 6 weeks of your life, or you are going to get burned out."  As so she did!    She focuses on trip reports that include value luxury ideals for families/couples, great places to go and things to do, plus smokin' deals from airfare wars, to mistake airfares, to teaching you the points and miles games she plays. Her motto is "Stop being so destination specific; let the miles take you where they want to go!"
---

Selville, Spain: Red Hot!
When I was a little girl, my world-traveling grandmother came home from Spain and brought some beautiful Spanish flamenco dancer dolls: the female in her blazing red dress and the male in his traditional  black pants,  a shirt and short vest.  The set came with a toro (bull).  I was mesmerized by what they could mean:
Seville:  It intoxicates by merely the name, the sound of its words.  It is a destination for passions, of which it has two: flamenco and bullfighting.  While red-flamed dressed dancers or hot pink flowing souls move around the floor with fierce eyes,  stomping their feet on the stage, the men wail in song to the Spanish guitar. These are the sounds of Seville, famous for its tapas and dance.  They will not disappoint.  Simply the sound of the wailing gets you to understand the suffering of their souls.  On the stage, the music and dance is a form of expression for the poor and the oppressed.  In the 16 century, Gypsies, Moors, Jews and indigenous Andalusians influenced the creation of what is known today as flamenco.
Be sure to take a seat at the flamenco club   El Arenal.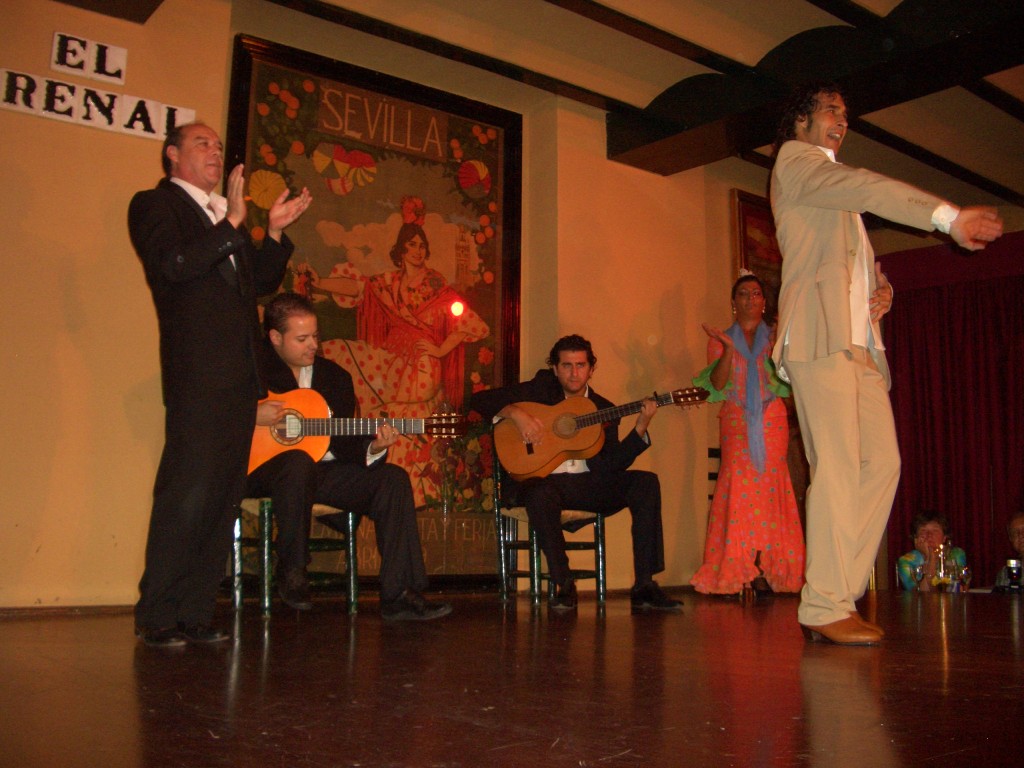 Ticket options include show with tapas, show with dinner and show with drink, choose the show with the drink, as you will not be there for the food, the show will intoxicate.  You will be drawn in, as tightly as they wish you to be.  Sit back, drink and forget about your worries for an hour and a half of bliss.  They offer two nightly shows in a central Seville location.   It is highly recommended to get into the Spanish state of mind.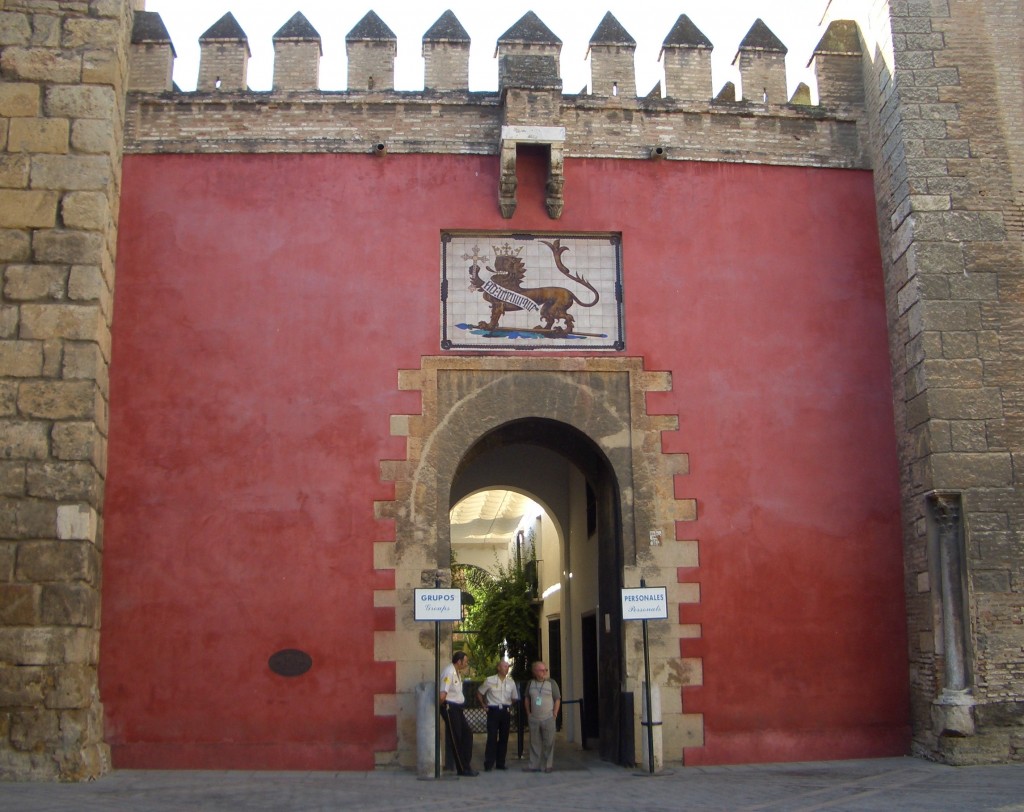 After a hot, fiery night, you will need the coolness of the Alcázar , a former palace, whose endless gardens and courtyards will have you in a maze of delight and beauty.  In its heyday, the Alcázar served as a Moorish palace, decorated with intricate carved arches and flowing fountains.  Home to Isabella and Ferdinand, the catholic monarchs, whom historians consider the unification of Spain can essentially be traced back to their marriage in 1469.  They funded Christopher Columbus's expeditions from here and stored his gold and silver within these very walls upon his return.

Walk to the Royal Gardens with amazing andalucia painted tiles, landscaped lawns and gazebos.  Walkways and flowing water pathways go from the main building and lead further and further away from the crowds, as you finally find yourself to be alone, to smell the fresh air and the scent of the flowers.  Shady spaces beneath the old trees and walls are usually deserted, so you can find a nice spot to relax.
We stayed at the Hotel Amedeus, a small boutique hotel that resembles a mansion, rather than a hotel on the inside.  On the outside, you wouldn't even know it was there, so hidden within the pathways of what is Seville.   It is located in the Barrio de Santa Cruz.  All rooms are named after classical composers. The location is amazing and within walking distance to the  Alcázar and the Giralda Cathedral.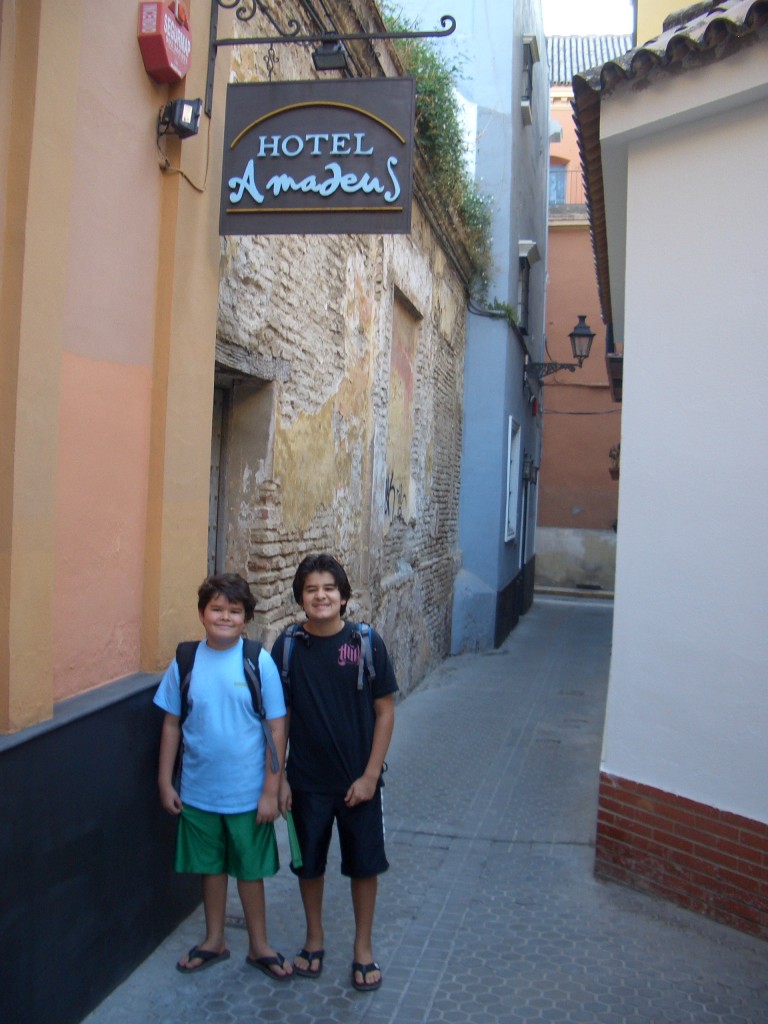 See what I mean by not even knowing it was there?  Just a small, simple sign on the very narrow and quiet pathway that is known as  Calle Farnesio.
And lastly, don't  forget to stroll thru the narrow streets to the  Giralda Cathedral.  It is amazing, much more amazing than my photo from 2007 can reflect.  At least one thing I know is true, my photography has improved!
Hasta la próxima ves, mi Seville,  (Until the next time, my Seville.)