SUNDAY TRAVEL ADVENTURES – "Barcelona, Spain: Sweet and Salty at La Boqueria and Beyond"
Today's featured travel writer is Dr. Cindy Maloney who writes Pointsandtravel, "Combining points and travel to create extraordinary experiences for your family"
Dr. Cindy Maloney is a long time world traveler who has visited 33 countries and still has a zest for more.  She was given advice some 18 years ago from a trainer she hired for her clinic that was similar to the medicine man from Bali in Eat, Pray, Love .  He gave her the advice that she wanted to hear. "If you are going to work this hard and so many hours, you will need to take a vacation every 6 weeks of your life, or you are going to get burned out."  As so she did!    She focuses on trip reports that include value luxury ideals for families/couples, great places to go and things to do, plus smokin' deals from airfare wars, to mistake airfares, to teaching you the points and miles games she plays. Her motto is "Stop being so destination specific; let the miles take you where they want to go!"

---
Barcelona, Spain
Sweet and Salty at La Boqueria and Beyond
 
What a fabulous day I had on my walking food tour of Barcelona with Context Travel!    They have a great tag line — Walking tours for the intellectually curious!  They are in 21 cities— in Barcelona and in 15 other European cities, 4 US cities, and 2 Asian cities and use  expert level docents to lead the tours.  They offers plenty of other tours you can choose from — on chocolate, art, architecture, history, and even tours geared towards kids.  I can't recommend them enough.  They are the "untour"  tour company with not more than 6 people in your group, so you can get to know the others, the expert and ask lots of questions. This is my kind of tour.   Our food tour was led by Esther, a native Catalana with perfect English, who was truly an expert in food history.
The tour I took in Barcelona was called:  Farm to Fork, La Boqueria and Beyond.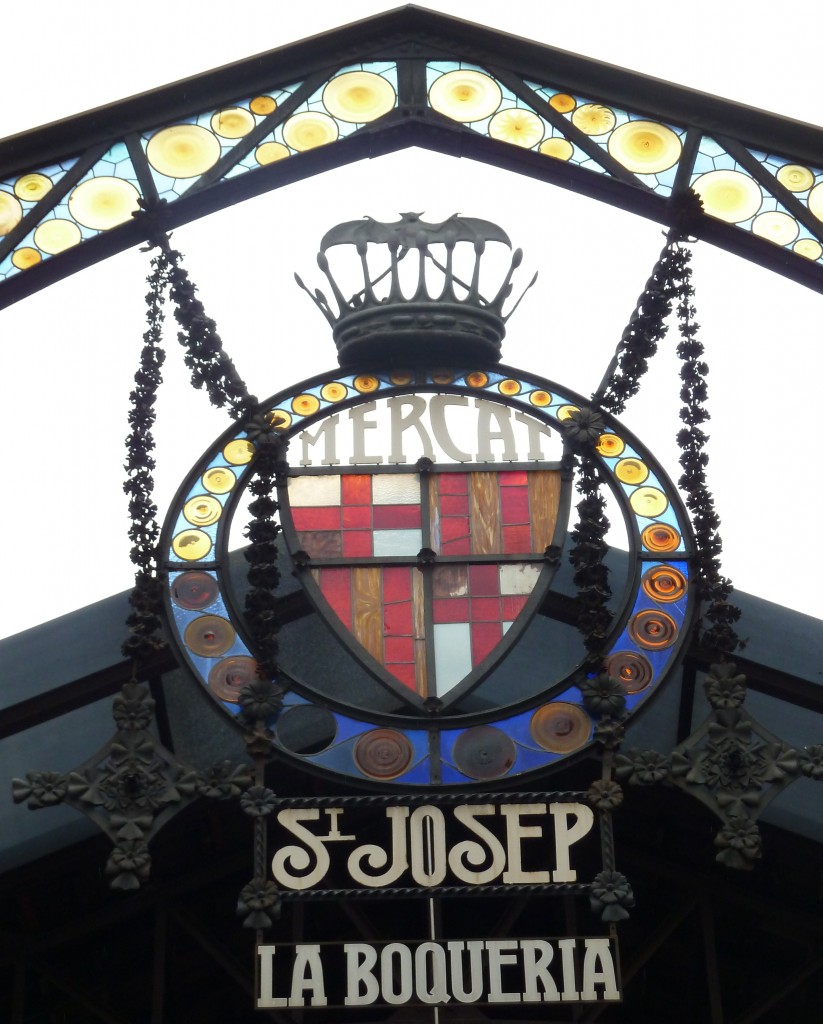 If you haven't heard of La Boqueria in Barcelona, let me introduce you to 795 years of a food market.  It started out as a meat market in 1217 and then in 1470 became a pig market, from there is became a straw market in 1794.  Years keep rolling by as it expands into what it is today, a fabulously wonderful, eye delightful, tummy loving place to wander in Barcelona.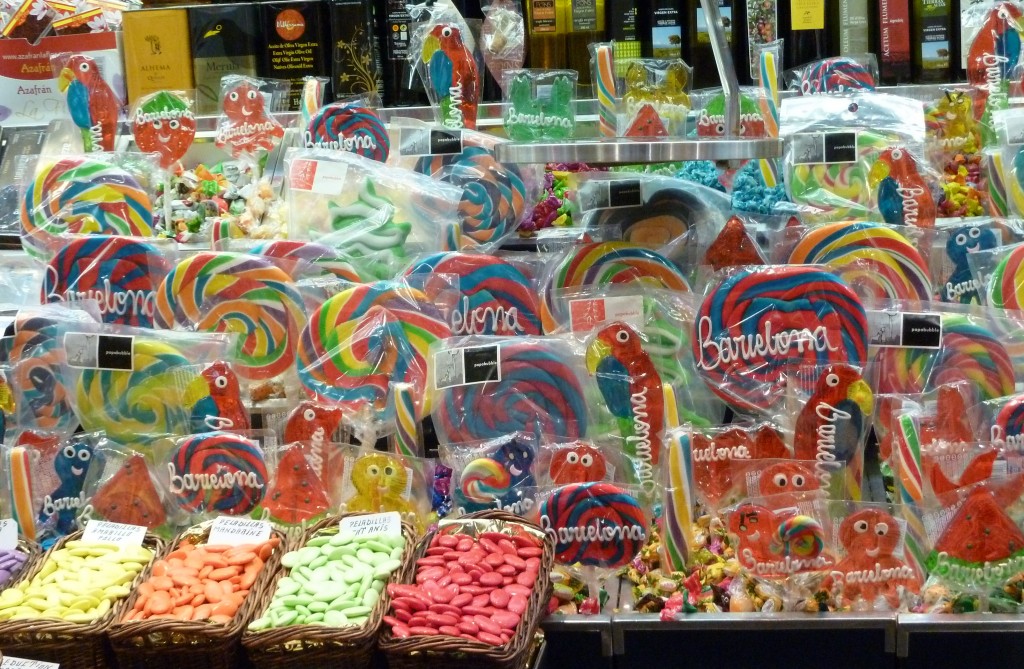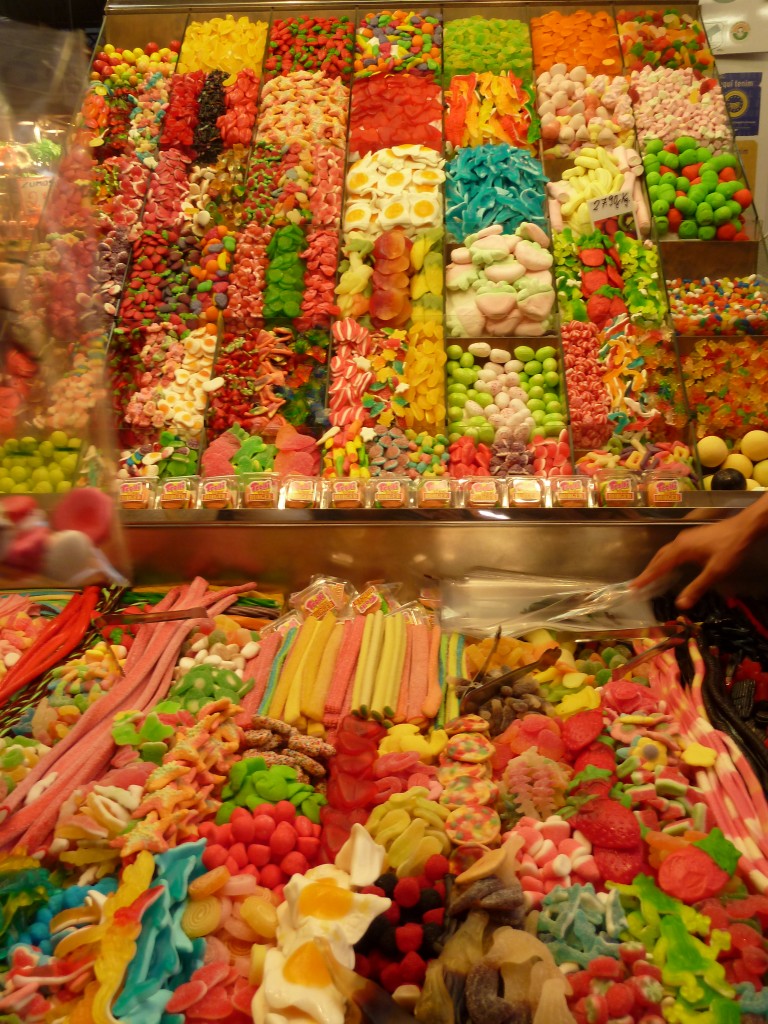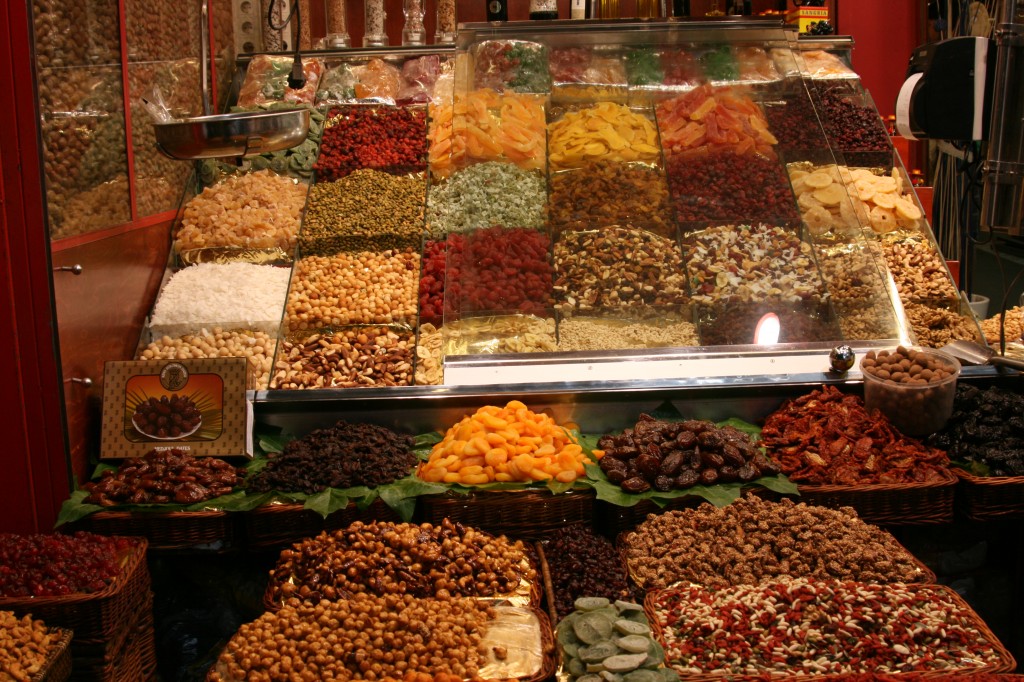 The main entrance is off the strolling area of La Ramba, so there is no way you will miss seeing this famous icon.
We started our day at La Granja M. Viader on Xucia Street, one of the oldest milk shops in Barcelona.  It has been there since 1870, and today it is basically like a coffee shop/cafe.

  A granjas  is a cafe that specializes in chocolate and sweets.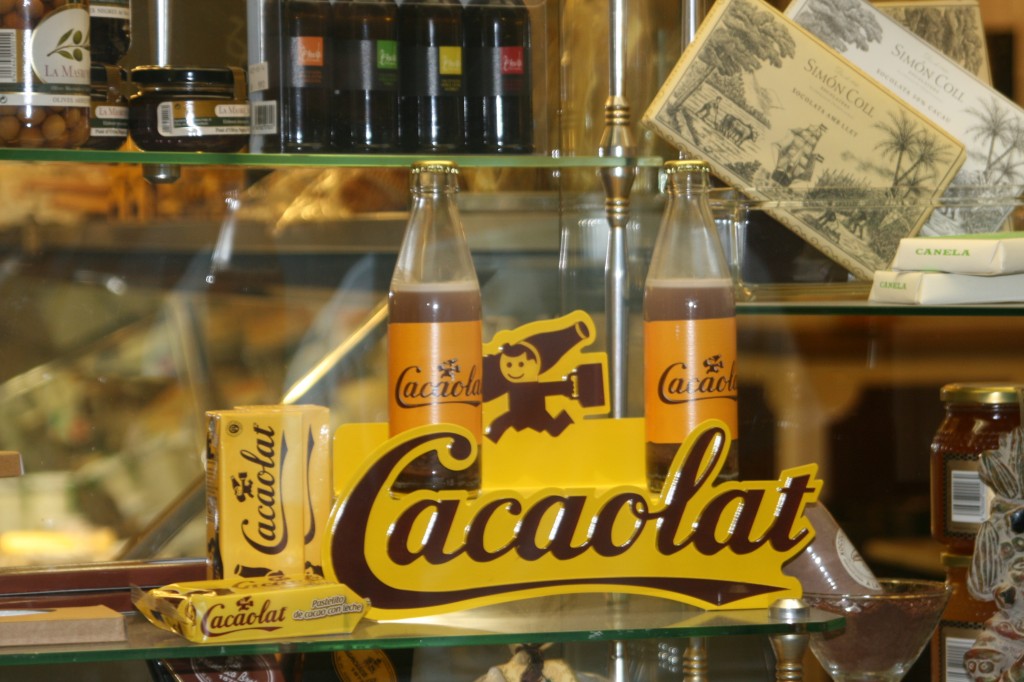 It is well known for serving Cacaolat.  Which sort of tastes like a cross between a chocolate milk shake and chocolate milk and comes in a bottle like the old Yoo Hoo drink (remember those?!).  Spain was actually the first place that chocolate arrived in the Old World, when Columbus brought back unprocessed cacao beans with him into the port of Barcelona, thus the emphasis on chocolate here.  There is even a chocolate museum in Barcelona!
Here's a photo of the inside counter of La Granja M Viader where they also serve a huge array of cheeses and serrano hams for lunch.  They have a great website if you get a chance to check them out:
Our food expert and walking guide told us that we would start the tour off with sweet and go tosalt, and so we did.
Here was our first tasting (SWEET):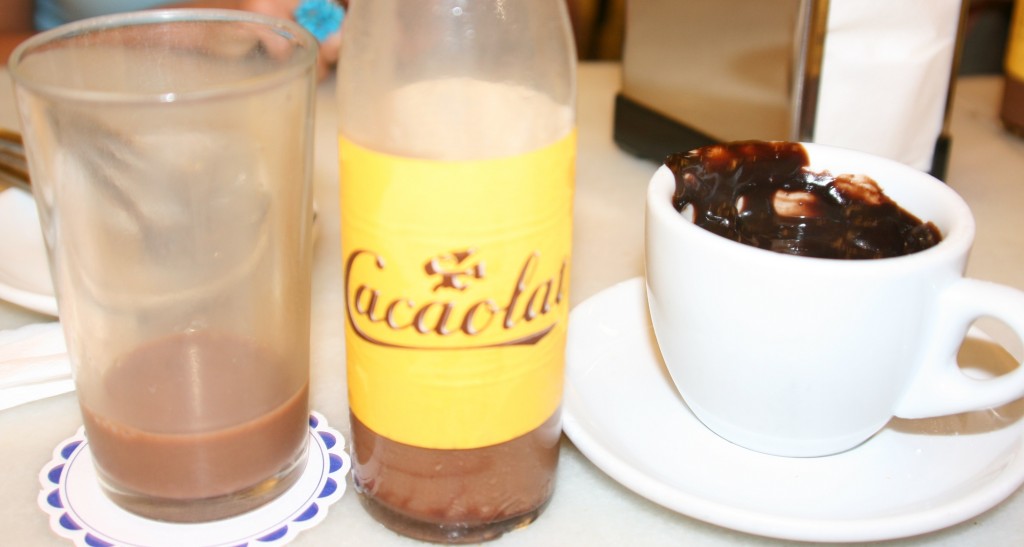 The white ceramic coffee mug might look like coffee, but it is, in fact, some sort of hot dark chocolate drippy goodness, that we dipped our sweet bread sprinkled with sugar into and drank our milkshake Cacaolat!  That was some sweet goodness for sure!  I cannot emphasize enough that you should not miss all these delicious chocolatey treats.  This is a favorite late night snack in the wee hours of the morning among young Spaniards.
Then we were off down the street of La Ramba, on to our next food tasting place.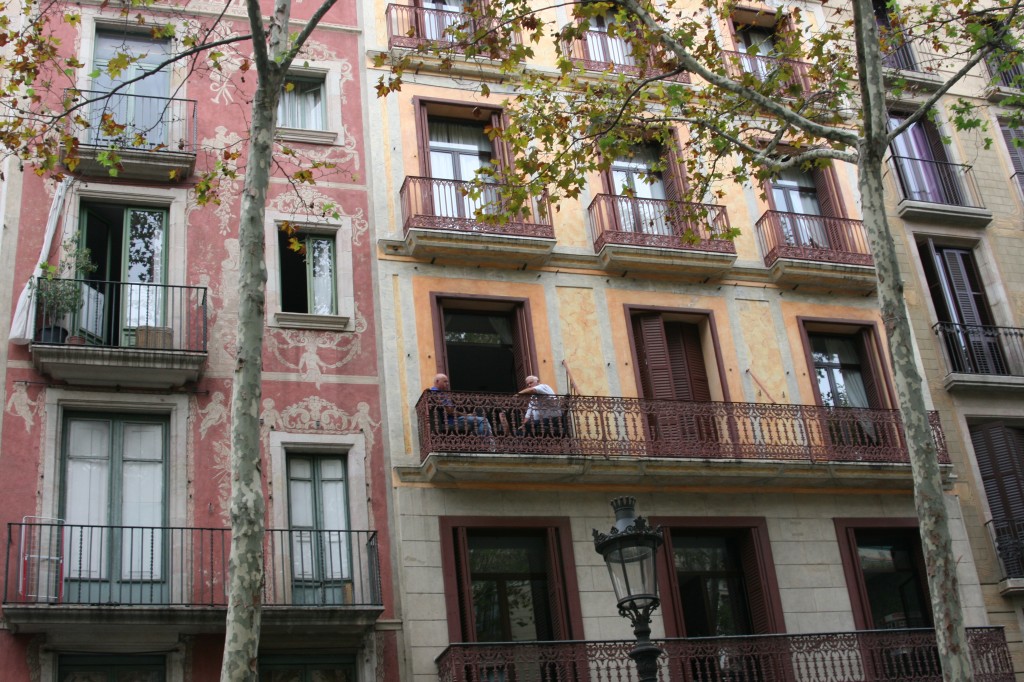 Along our walk, although we didn't stop, the foodie expert did point out a classic restaurant that has been in the area for years called Restaurant Can Culleretes, in the neighborhood since 1786!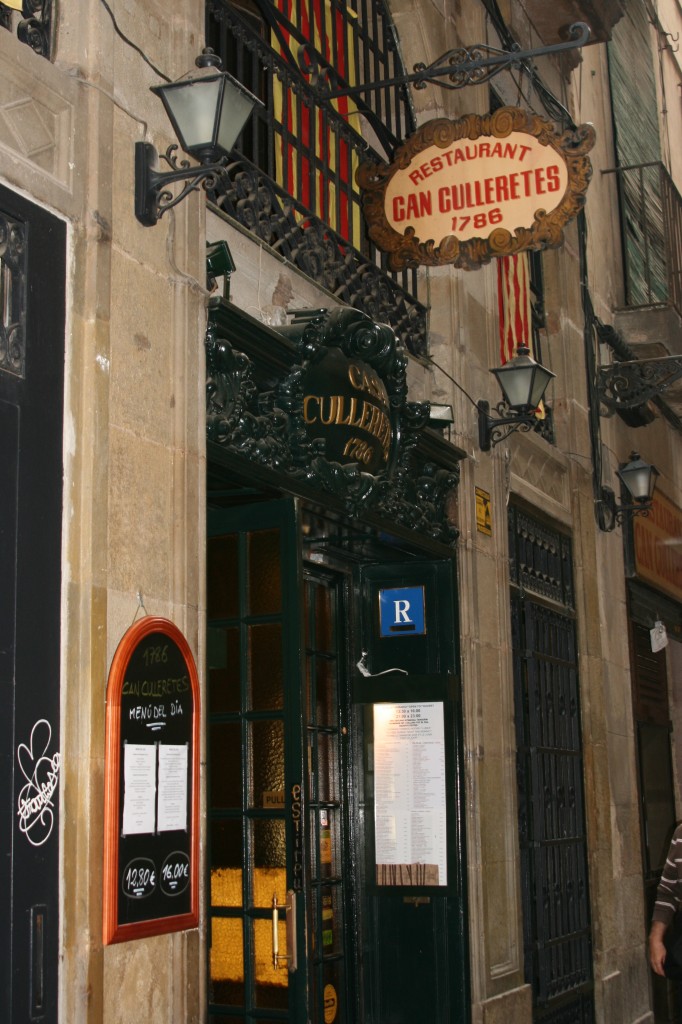 They were filming a documentary about the restaurant the day we walked by.  Our food expert recommended it as a place to have dinner in Barcelona.
Each classic food establishment has these cast iron bronze metal plaques embedded in  the cobblestone like pavement in front of their store from the city of Barcelona that signifies that they are a historic food shop, so look out for these when in Barcelona, as recommended places to eat.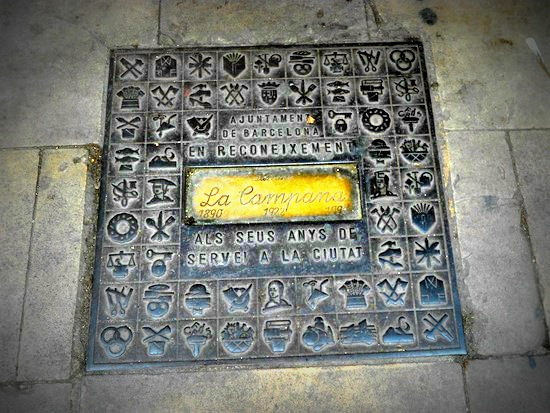 Next we entered a side entrance of La Boqueria  to taste olives.  Yes, olives.  And no, we are not in Italy.  There are so many varieties of olives in Spain.  We tasted at least 5 different varieties with different texture, size and taste. Delicious. This would start the salt portion of the tour.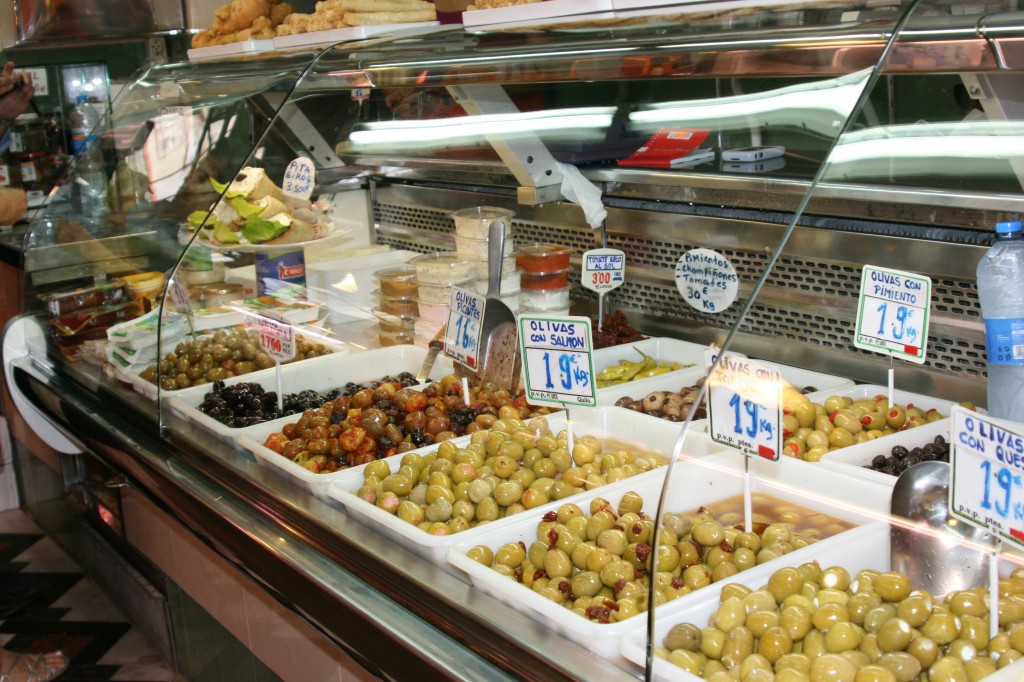 We wandered our way through the fruit and vegetable stands until we made it to the freshly hunted mushrooms.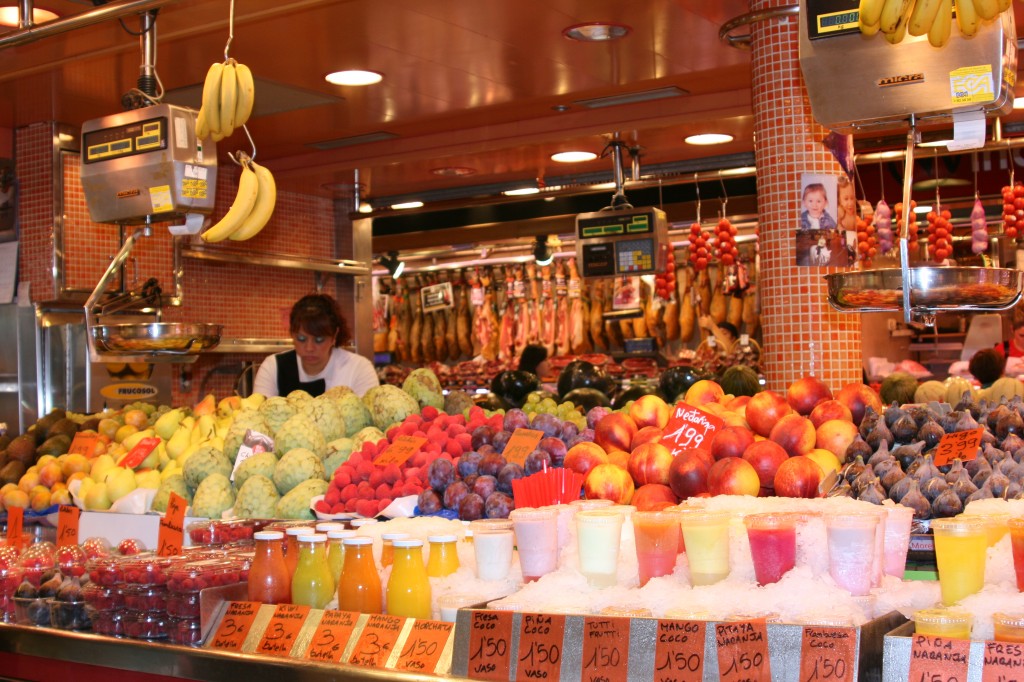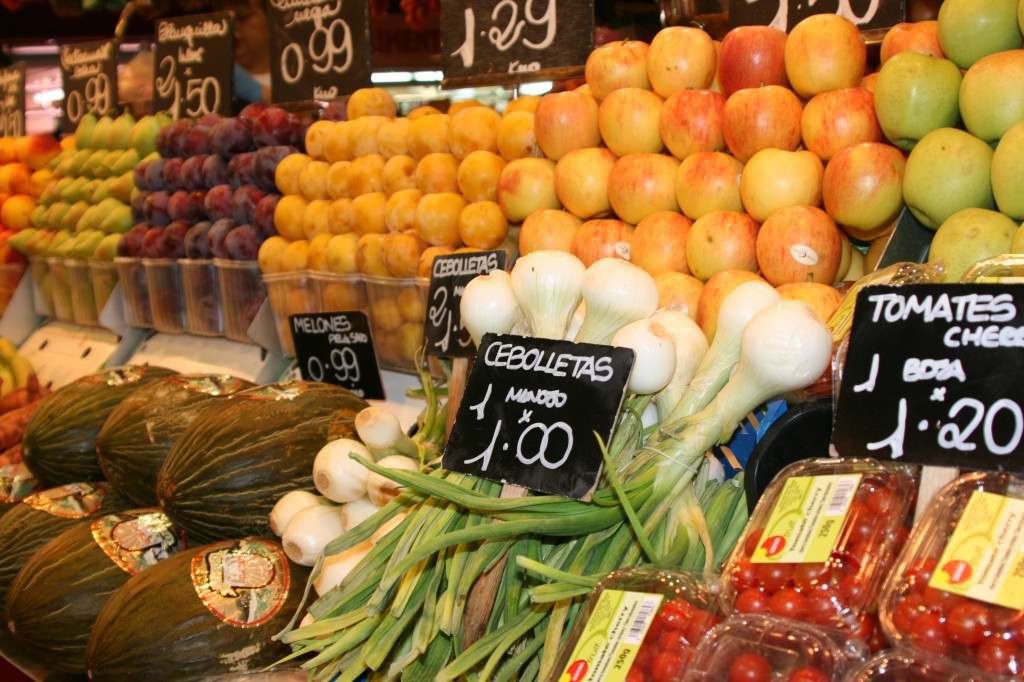 There's a long tradition of gathering mushrooms in this part of Catalonia. It's one of the tastiest foods found naturally in the Pyrenees mountains and the locals take their families on these hunts.  In the old times, it was a very important economic contribution to the family.  Our expert Esther reminiscences about her childhood family trips hunting mushrooms.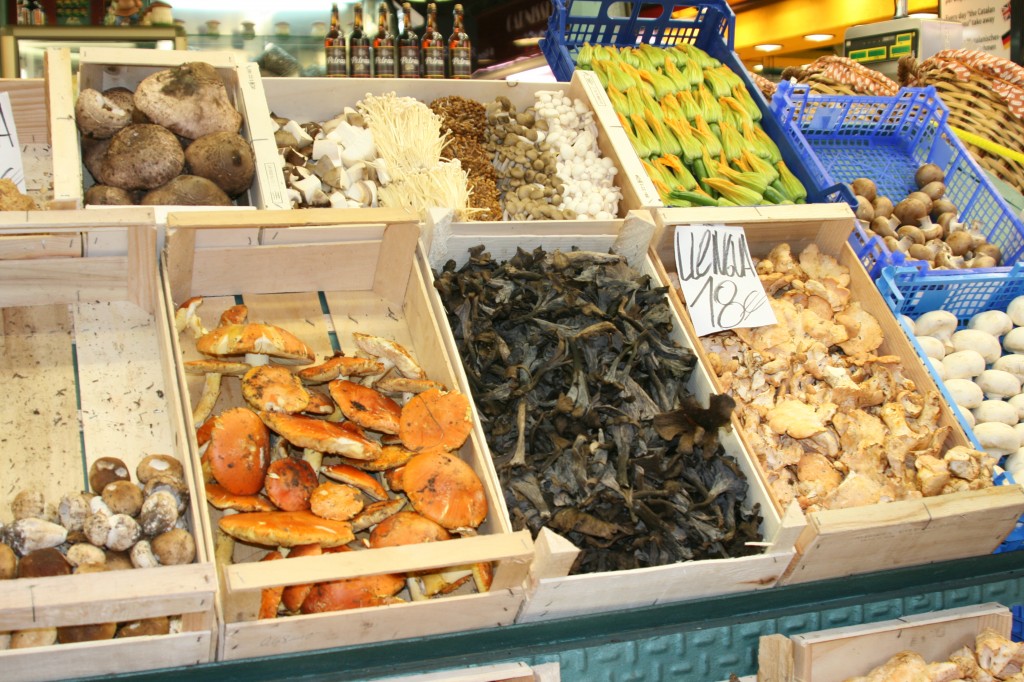 Next it was off to the fish market, where she told us about the  Bacalao (cod) fish, a type of fish that is cooked and dried by the salt.  The buyer soaks it in water over a period of days to pull out the salt and can keep it up to a week in their home for lunch or dinner.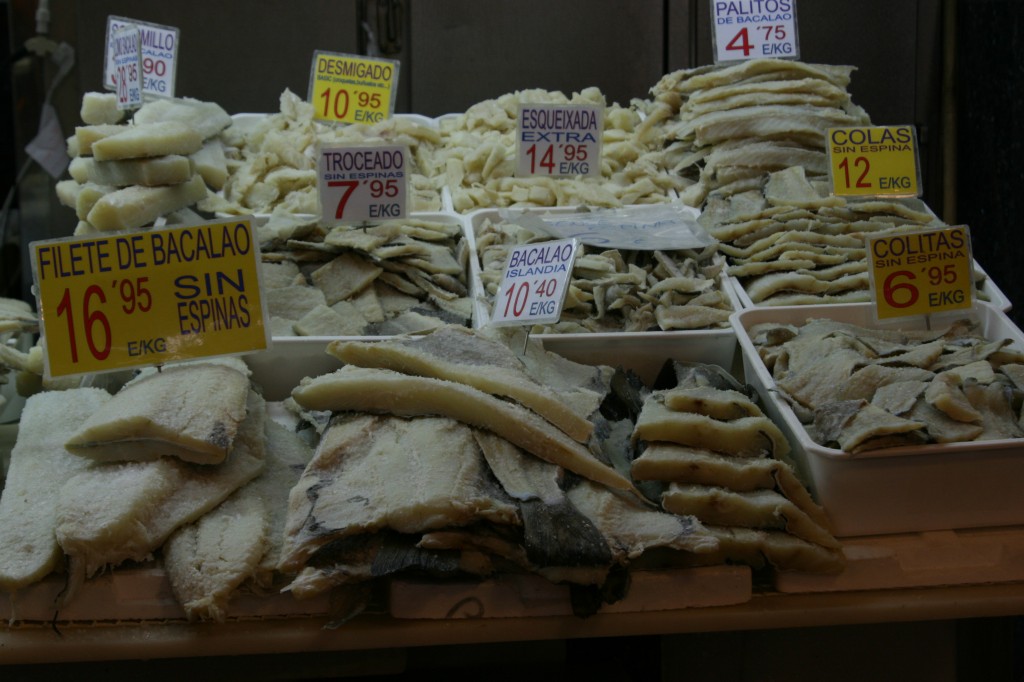 Here are my new travel friends Kiersten and Susan having oysters, that according to them, are so cheap that they just had to try them (they are from California, so they know a great seafood deal when they see one!).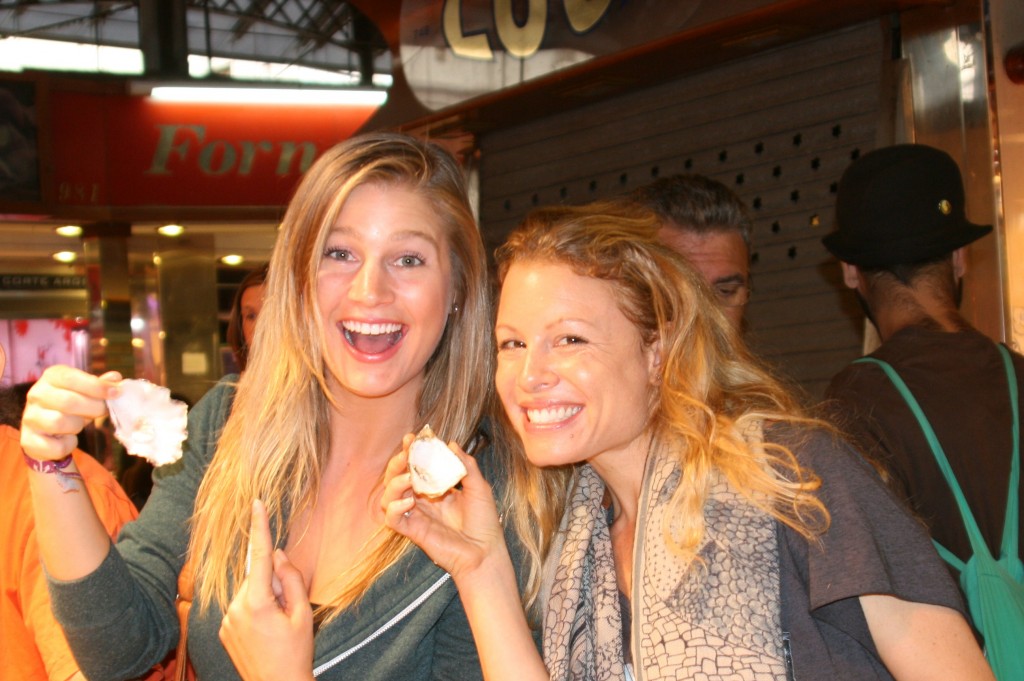 Next, it was on to the breads and HAM!!  (more salt). Yes, according to me, all the dried hams of Spain are amazing! Salty jamon is one of my favorite things and I could live on prosciutto and crusty bread on a daily  basis for breakfast, lunch or dinner.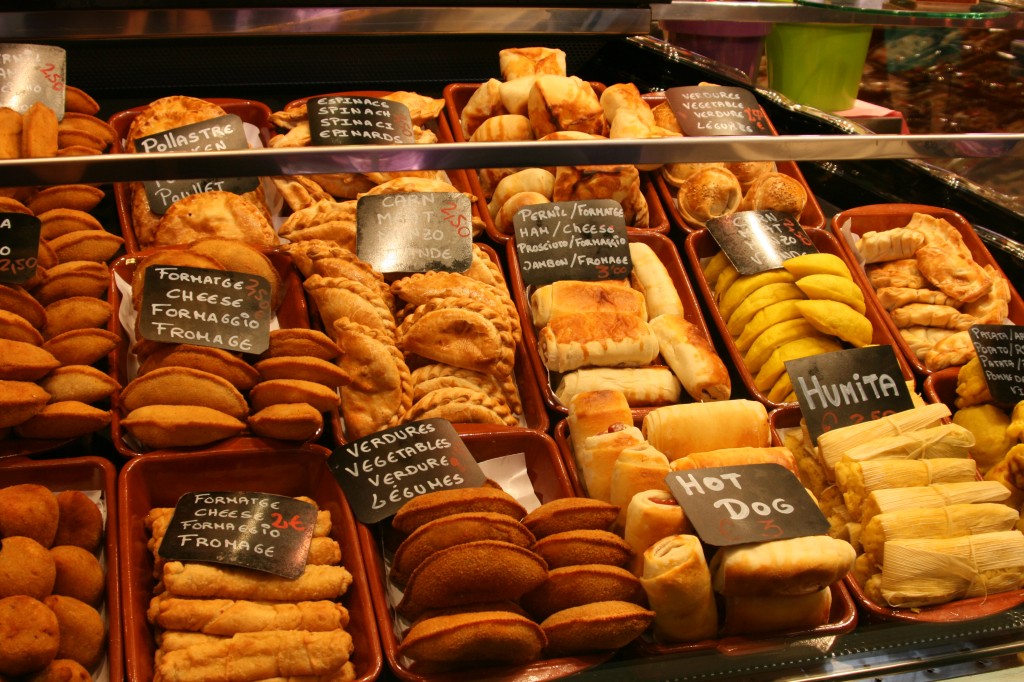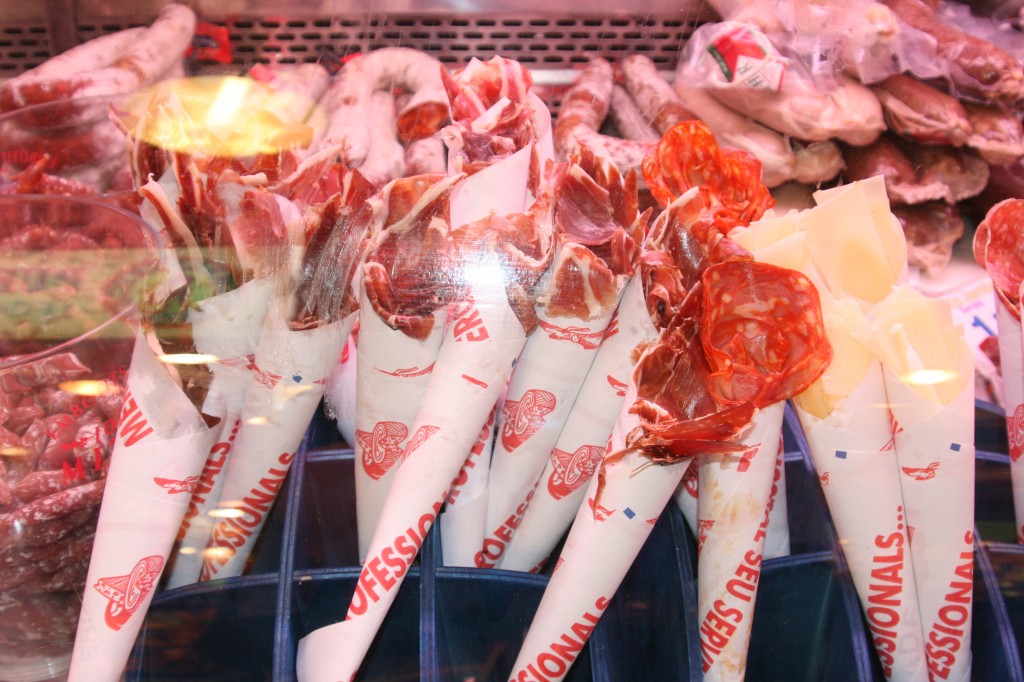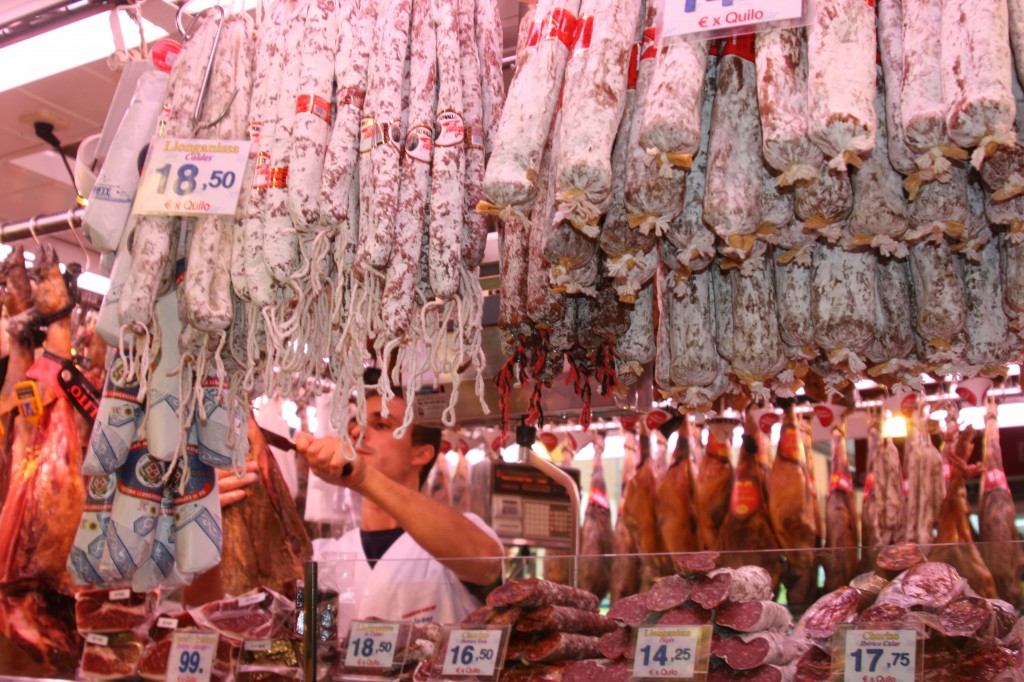 Our host truly was an expert in food and took us on an adventure along the way that I don't think I ever would have ever seen or tasted, had I toured the city on my own. I wasn't expecting such a fabulous tour and this tour has changed my mind about walking tours of cities.
Costs:  65 euros for a 3 hour food tour and 10 euro fee for the food tastings.
Check them out:  Context Travel
Disclaimer:  My visit on the Farm to Fork, La Boqueria tour was sponsored by  Context Travel.  Opinions noted here are entirely my own.